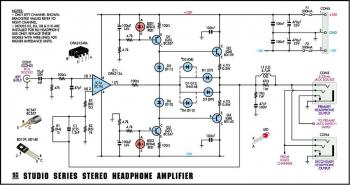 Here the diagram of stereo headphone amplifier. The circuit called Studio Series Stereo Headphone
Amplifier
, of course this a top rated and high performance headphone amplifier
circuit
.
Stereo Headphone Amplifier Main Features:
High output power (up to 200mW; into 8Ω and 32Ω)
High performance – very low noise & distortion
Drives high and low-impedance headphones
Dual headphone sockets – can drive two pairs!
Works with a preamp or any line-level audio source
Measured Performance:
Frequency response = flat from 10Hz to 20kHz (see graphs)
Rated output power = 200mW into 8Ω and 32Ω, 85mW into 600Ω
Max. output power (current or voltage limited) = 575mW into 8Ω, 700mW into 32Ω, 130mW into 600Ω
Harmonic distortion = typically .0005% (600Ω load),.001% (32Ω load) and .005% (8Ω load)
Signal-to-noise ratio (A-weighted) = -130dB (600Ω), -120dB (32Ω) and -111dB (8Ω) with respect to 100mW output power.
Channel crosstalk = better than -68dB from 20Hz-20kHz at 100mΩ output power (see graphs)
Input impedance = ~47kΩ || 47pF
Output impedance = ~5Ω
Complete electronic project, go to
this page
About Audio Amplifier
An audio amplifier is an electronic amplifier that amplifies low-power audio signals (signals composed primarily of frequencies between 20 - 20 000 Hz, the human range of hearing) to a level suitable for driving loudspeakers and is the final stage in a typical audio playback chain.
The preceding stages in such a chain are low power audio amplifiers which perform tasks like pre-amplification, equalization, tone control, mixing/effects, or audio sources like record players, CD players, and cassette players. Most audio amplifiers require these low-level inputs to adhere to line levels.
While the input signal to an audio amplifier may measure only a few hundred microwatts, its output may be tens, hundreds, or thousands of watts. More explanation about power audio amplifier can be found at
wikipedia.org
This is a video tutorial about how to a very simple audio amplifier based on the LM386 amplifier chip. It can be built for less than $20 (or might be less than $8 in some countries) and used to amplify any low level audio signal including a guitar, bass or mp3 player.
Watch the video: